C&A to start manufacturing closer to home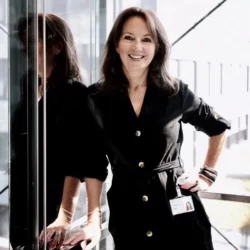 C&A is reshoring some of its jeans manufacturing activities from low-wage countries. The clothing retailer, which was originally founded in the Netherlands, is opening a new textile plant in Mönchengladbach, Germany, where it initially plans to produce 400,000 pairs of jeans annually.
"We'll be the first clothing company to start manufacturing in Germany again," says Dutch CEO Giny Boer (pictured) in the German financial newspaper Handelsblatt. In effect, the family business, which is now headquartered in Düsseldorf and has 1,400 branches worldwide, claims to be the first major clothing brand to bring its production activities back to Western Europe.
Less environmental impact
The Mönchengladbach factory will initially start with an annual production level of 400,000 pairs of jeans, and that will later be increased to 800,000 pairs – equivalent to 3% of the group's annual jeans sales. According to Boer, manufacturing closer to the stores will reduce the environmental impact related to shipping the goods.
C&A has also announced plans to modernize its store base and to develop new clothing concepts. For example, the retailer is currently trialling the sale of second-hand clothing at a store in Hamburg. The company has also partnered up with e-tailer Zalando to sell clothing through its channels during lockdowns.
Online sales boost
The coronavirus pandemic has hit C&A pretty hard and Boer admits that online sales – which currently account for an estimated 20% of the total – need a considerable boost. Boer intends to increase the online share to 50% over the coming years. In support of this aim, a third distribution centre will be opened later this year.