Bol.com to acquire Cycloon to improve own sustainability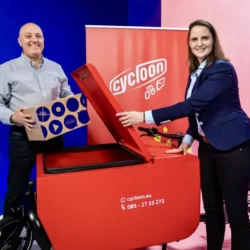 Bol.com has announced plans to take over bicycle courier Cycloon so that it can deliver small parcels in a sustainable manner in the future. "By acquiring a majority stake in Cycloon, we are taking another step towards our ambition to reduce our carbon footprint per parcel to zero by 2025," states Vincent Weijers, Director Logistics & Operations at leading Dutch online platform Bol.com.
Bol.com currently outsources its parcel deliveries to external couriers such as PostNL. The company will continue to work with such services in the future, according to Weijers (pictured). However, the e-tailer is serious about achieving its sustainability goals, and Bol.com believes that its partnership with Cycloon will make a substantial contribution.
Belief in Cycloon's sustainable mission
"We strongly believe in Cycloon's sustainable and social mission. At the same time, this is a unique opportunity for Bol.com and our sales partners to accelerate the sustainability of our growing parcel delivery business and expand our delivery capacity. We can also further improve the convenience and service for our customers by delivering flexibly and intelligently," says Weijers.
"Working towards a sustainable and socially responsible last mile is crucial for the future of e-commerce and we will continue to collaborate with all our delivery partners to make this happen," adds Weijers. By taking a majority stake in Cycloon, Bol.com hopes to achieve fully climate-neutral operations by 2025.
CO2 savings
Cycloon has a national network of bicycle couriers who deliver mail and small parcels throughout the Netherlands on behalf of thousands of customers. This currently saves 1,600 tonnes of CO2 annually. The company employs a total of 600 people from disadvantaged groups.
"Joining forces with Bol.com gives us the opportunity to make an impact on a much larger scale," comments Marieke Snoek (pictured), Managing Director of Cycloon. "We will continue to invest in our people, our network and our partners in order to improve and further expand the service for our existing customers and also new ones."