Big negative impact of Tsunami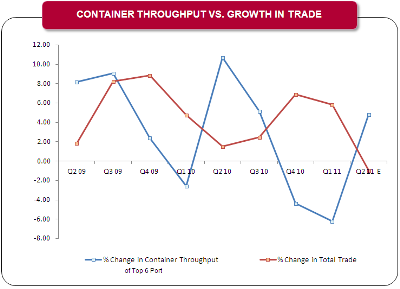 The earthquake and tsunami in Japan on March 11 of this year had a big negative impact of on manufacturing industries worldwide. The Global Trade Flow Index by Capgemini Consulting shows that levels of global trade continued to fall in Q2 2011, by a further one percent quarter-on-quarter (q-o-q), leading to an eight percent decline in global trade volumes overall in the first six months of 2011.
The report also highlights the impact of the recent E. coli outbreak in Europe on global trade levels. The analysis reveals that while heavily impacted by Japan's reduction in industrial production and a rise in commodity prices, the US retains its position as global leader in overall trade volumes, despite a reduction in total trade of two percent in Q2 2011 q-o-q.
Capgemini Consulting's Global Trade Flow Index tracks the trade of goods and services by quarter based on an analysis of a number of trade and market-related parameters from the latest available official data (related to the import and export of goods and services) from national agencies of the 23 top countries in terms of global trade.