Benchmark study compares forecasting performance results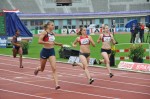 In 2010, the volume of promotions was 77 per cent greater than in 2009 – that is just one of the findings from the extensive forecasting benchmark study conducted by Terra Technology amongst manufacturers and suppliers in the consumer goods sector. Rather than wait for the supply-chain solutions provider to officially present its findings in late June 2011, Supply Chain Movement met up with Terra Technology's CEO, Robert Byrne, on 14 June 2011 during the Supply Chain Logistics Europe event in Berlin (Germany).
The study, which included input from the likes of Procter & Gamble, Unilever, Kraft Foods, Kimberly Clark and Campbell Soup, provides insights into the forecasting performance of organisations within the consumer products industry. According to Byrne, it is the only study where the results are truly comparable across all companies. A forecast error of between 45 and 50 per cent is often meaningless because it depends on how it has been measured. "We, on the other hand, have gained a huge amount of information from our customers that is comparable."
Terra Technology collated raw data from consumer packaged goods companies for the years 2009 and 2010 including, for example, information about new items and promotions. Participating companies receive an interactive version that allows them to compare their own performance with the aggregate results. Terra Technology itself only publishes the data at strategic level and identifies broader industry trends, ensuring that all sensitive customer data remains confidential.
What surprised Byrne most was that the highest volume item of a small company equalled the highest volume item of a large company. "You would expect that the highest volume for a small company would equate to merely a mid-level volume for a large company," says Byrne.
Casual runner or serious athlete
Benchmark studies appear to be very much in vogue at the moment. Management consultancies Oliver Wight and LHC Consulting have also both recently announced benchmark studies. LHC is offering a benchmark study of transport costs which enables a comparison of transport rates. Meanwhile, the Oliver Wight benchmark study offers companies the opportunity to discover ways to improve their customer service while simultaneously reducing their supply chain costs.
According to Les Brookes, CEO of Oliver Wight, quantifying supply chain performance and comparing it against the best-in-class can indicate where a company currently stands and where, and how great, the opportunities for improvement are. "Are you a serious athlete or a casual runner?" asks Brookes to underline his point. "The better-equipped a company is to manage its supply chain, the harder it is to see where possible improvements could be made. Hence, for those companies who already have their supply chains well under control, this is a very useful method for exposing potential areas for further improvement. You can liken it to an athlete who records the entire race, from start to finish, in order to play it back and see how he could better his performance."