Ben & Jerry's to team up with Tony's Chocolonely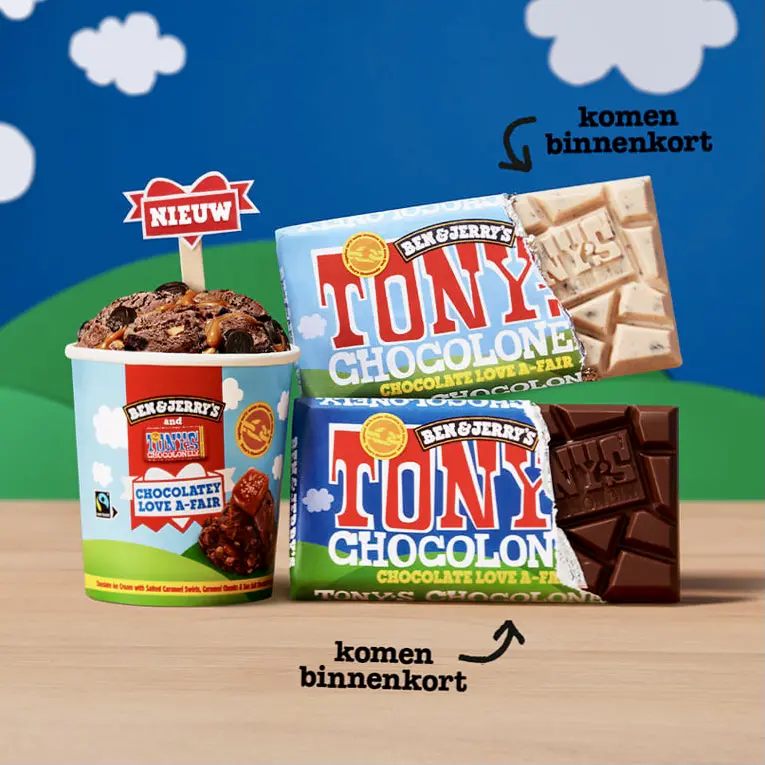 Ben & Jerry's and Tony's Chocolonely have decided to work together. The US ice cream manufacturer will be purchasing its cocoa through the Dutch chocolate brand from now on so that Ben & Jerry's – just like Tony's Chocolonely – can be assured of completely slave-free chocolate.
The newly announced partnership, which Tony's Chocolonely refers to as "a Chocolate Love A-Fair", unites two brands that have both been working hard for social justice for years. For example, Ben & Jerry's has been using only Fairtrade-certified ingredients in its ice cream since 1978.
From now on, the ice cream manufacturer will be purchasing its cocoa through Tony's Open Chain, which ensures complete traceability of the cocoa. Ben & Jerry's is the first ice cream brand to join the chocolate manufacturer on its mission to make all chocolate 100% slave-free and to end illegal child labour in the cocoa industry.
Open-source platform
In order to tackle malpractices in the cocoa industry, Tony's Chocolonely is also opening up its open-source platform to other companies so that they too can access all the necessary knowledge and tools – such as Tony's Beantracker, for example, or the Child Labour Monitoring and Remediation System which has been introduced across all of Tony's partner cooperatives.
However, it is not always easy to obtain slave-free chocolate, as recently became apparent when Tony's announced that it would not be able to supply its traditional chocolate letters in time for the Dutch festive season later this year. The disruption is due to a salmonella outbreak at the Belgian supplier Barry Callebaut, which resulted in the factory being shut down for cleaning. Moving to another factory is not an option for Tony's, because that would put the traceability of the cocoa beans at risk.
New products
To celebrate the Chocolate Love A-Fair, Tony's and Ben & Jerry's are launching four new products: two chocolate bars (in brownie and strawberry cheesecake flavours) and tubs of caramel/sea salt-flavoured ice cream in both regular and vegan versions. The ice cream will be in supermarkets from late September onwards and the chocolate bars will hit the shelves in early 2023.