Belgium is missing out on e-fulfilment opportunities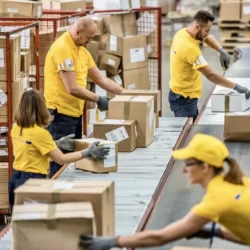 E-fulfilment for the Belgian market often takes place in the Netherlands. One reason e-commerce companies are avoiding Belgium is because of the tight restrictions on night-time working, and the slow permit procedures do not help either. Therefore, half of the online orders placed by Belgian residents are dispatched from abroad, according to the trade federation Comeos.
Joost Uwents from logistics real-estate investor WDP explains that e-fulfilment companies are attracted to countries with good infrastructure, sufficient availability of land and a flexible labour market. "For the past 15 years, the Netherlands has scored well on those three aspects and Belgium has scored poorly," he is quoted as saying in the Dutch financial newspaper FD. The traffic congestion around Antwerp and Brussels is getting worse rather than better, and hardly any new business parks are being created in Belgium. Moreover, it can take years rather than weeks or months to obtain the right permits.
Another problem is that the cost of labour is quite high in Belgium. Dominique Michel, chair of Comeos, told the FD that a low-skilled distribution sector employee is 25% more expensive in Belgium than in the Netherlands. Moreover, the labour market is anything but flexible; weekend work is a touchy subject, companies have to give employees permanent contracts fairly quickly, there is no strong culture of student jobs and the rules for night-time working are much stricter.
Night-time starts early
In fact, night-time working is prohibited by law in Belgium, and that law states that the night begins at 8 p.m. "Half of all online orders are placed after 6 p.m., but companies here then only have until 8 p.m. to dispatch them. It's difficult to compete with the Netherlands, where night-time working doesn't start until midnight," says Michel. Working longer hours is possible but requires an agreement with the unions, who usually demand high bonuses for night-time working.
Fewer low-skilled jobs
As a result, it can be difficult for low-skilled people in Belgium to find jobs, which is why the Belgian government recently decided to ease the rules regarding night-time working in e-fulfilment. It is now down to trade unions and employers' organizations to reach an agreement on this, but Michel is not convinced that this will work: "Companies should be given the freedom to hire employees who are prepared to work after 8 p.m., possibly in return for a small bonus. The government needs to create that possibility, because the unions are never going to agree to this."