Belgian and Dutch ports are putting blockchain into practice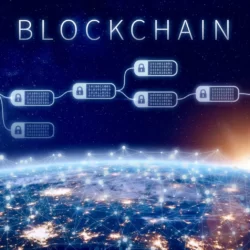 As many as 95% of all blockchain pilots have been stopped, according to consulting firm Deloitte. "Our solution, which uses blockchain as the basis for the secure release of digital pick-up rights for containers, is among the remaining 5%," stated Nico Wauters, CEO of Antwerp-based T-Mining, at a seminar organized by Elupeg in the Dutch town of Hoofddorp.
By Martijn Lofvers
T-Mining first started developing a private blockchain solution to optimize the access code-based security system for collecting shipping containers from an Antwerp terminal five years ago. "It took us three years to convince all stakeholders," said Wauters. In the previous system, people involved in the handling process were emailed a password. "People were offered money for their password by organized crime so that containers – or their illicit contents – could be picked up illegally. Now, almost the entire process is captured in blockchain, except for the very last part: the truck driver's PIN code. That will be added soon."
A total of 1,400 companies are currently participating in this 'Secure Container Release' project, including shipping companies MSC, Hapag-Lloyd and CMA CGM and logistics service providers DSV, DHL, Kuehne + Nagel and Katoen Natie. "We tried to convince insurance companies to take part too, but unfortunately without success," Wauters explained. "You have to combine blockchain with other technologies to make it work and to balance the commercial interests." Because this solution is based on the Ethereum blockchain, stakeholders do not have to pay a licence fee per transaction line, as is the case with a public blockchain.
Brexit blockchain
Another operational example of blockchain being used in logistics is Quay Connect, the fully automated system for customs clearance between the Netherlands and the United Kingdom. "Brexit is a greenfield environment which makes it ideal for a blockchain application, because the regulations are new and the process is still unclear," explained Aljosja Beije, Director of the consultancy Blocklab, which was founded in 2018 as a subsidiary of the Port of Rotterdam. "Thanks to our solution, which runs on the Naviporta blockchain platform, companies save 40 euros per transaction on the entire customs clearance process when exporting to the UK. It offers direct integration with the UK authorities and with various ERP systems, and with four transport routes from the EU to the UK already."
Almost like a teacher, Beije explained the principle of blockchain very clearly: "The blockchain securely brings together all the fingerprints of process steps in a meta-model of the supply chain. So no data is actually stored in the blockchain, but entering data triggers those fingerprints. That data could be a PDF document of a freight document, for example, or a token – which is a digital asset such as a bitcoin. In other words, the blockchain creates a digital trail of a document such as a Bill of Lading or an asset which – under specific conditions – can change hands in a pre-programmed transaction."
Four essential flows
To input the data needed for the customs solution, Blocklab uses Google Document AI to read PDFs of customs documents. "This is between 95 and 98% accurate, so it still requires some human intervention," Beije stated. According to him, for blockchain applications to be successful it is necessary to effectively manage four essential flows: data, funds, goods and trust.