ASML considers risks down to ten tiers deep
Profile of Harold Bol, Director of Supply Chain Planning & Configuration Management, ASML
There is a good chance that the superfast chips in your smartphone or tablet were printed on ASML equipment. Over the past 30 years, the publicly listed company has grown into the most important producer of steppers and scanners for the semiconductor industry. The company also provides aftersales services. With downtime costing its customers 72,000 euros per hour, ASML has invested heavily in refi ned planning tools and exeptionally close collaborative relationships with its customers and suppliers.
By Caroline Linssen
The semi-conductor industry is strongly affected by the state of the economy, but 2014 was an excellent year for ASML, manufacturer of systems used to produce integrated circuits or 'chips'. The company achieved a record turnover of 5.9 billion euros, which was almost 12 percent more than in 2013 – and far beyond the wildest dreams of the original 31 employees who started out in a temporary prefabricated building on the former Philips Natlab site in Eindhoven in 1984. In 2013 ASML won the VLM Dutch Logistics Award for supply chain leadership, concurrent engineering and aftersales service.
ASML employs 14,000 people globally, including 400 supply chain professionals. 60 service points in 16 countries support the installation and supply of chip manufacturing systems and parts. Many of the products are shipped to Asia, the USA and Europe, but The Netherlands remains the multinational's beating heart. We spoke to Harold Bol, Director of Supply Chain Planning & Configuration Management, in Veldhoven where the ASML head office looms over the campus full of R&D labs and assembly cleanrooms like a futuristic church tower.
What does your role entail?
"The departments of Supply Chain Planning, Planning Excellence & Inventory Management and Configuration Management all report to me, which is 55 people in total. There is a single, integral plan to manage the entire chain. It is so complex that you can't manage it as an individual or a group, which is why we always work together with the factories around the world, and with Finance, Customer Service and Purchasing, for example. I'm responsible for the global inventory, which has a value of 2.5 billion euros, and for the Configuration Management department: the management of the Bills of Materials for all systems and other products, Material Requirements Planning (MRP) and Master Data Management Support."
You started at ASML, then you spent around seven years at Vanderlande before rejoining the company in 2013. What attracts you to ASML?
"I like the fact that the product is so complex, and this environment is inspiring. The ASML campus is a melting pot of 87 different nationalities, all of whom have adopted the Dutch approach to working: they are direct, and the validity of a person's opinion is more important than their hierarchical status. Tasks are assigned based on who knows most about that specific topic. I like that way of working. The supply chain organisation starts at the machinery development stage, which is ten tiers deep in the chain, and runs through the ASML factory into our customers' factories. We've outsourced 90 percent of the chain to our suppliers. For R&D we collaborate with development companies, we source components locally – from the 'Brainport' region around Eindhoven – as well as from Japan, Almelo and Germany. What we do ourselves is systems integration, that's our core competence. This is such a dynamic industry that it would offer me more than enough challenges to last me until I retire.
But I actually most enjoy doing the things that I least understand, so I can envisage myself wanting to go and do something new three years from now. I've never actually managed a factory, for instance."
The target in this branch of the industry is to keep pace with Moore's Law – the number of transistors on a chip doubles every two years – and that's no easy task.
"We think that EUV, Extreme UV light, will be crucial for that, which is why we acquired American light-source supplier Cymer in 2013. I had just returned to ASML and my boss had told me to first spend around three months taking a good look around before letting him know what I wanted to do. A week later the merger with Cymer suddenly reared its head and things started to move very quickly. A plan of attack for the supply chain side had to be ready within two weeks, and so in Week Three I found myself on a flight to America.
Cymer had to be converted from Oracle to SAP in record time – and it was, in just four months! Luckily I wasn't a complete newcomer thanks to my earlier time at ASML and I had kept in touch with various colleagues. When SAP went live, a lot still had to be done in terms of training people, so in parallel we managed to find 12 people from my supply chain organisation who were prepared to move themselves and their families to the USA at very short notice to help with the implementation. I'm energised by challenges like that."
Some of ASML's customers are 'pacemakers' who keep challenging you and pushing you to advance.
"They build very capital-intensive factories which rely on our chip-making systems. The development of a new system is so far ahead of the actual manufacturing activities…it requires collaboration between many different parties: a producer of computers and smartphones needs chips with a particular capacity, the chip manufacturers need us, and we need our 600 suppliers. At ASML, Manufacturing, Logistics and Purchasing work together in teams with a strong layering of competencies at all levels. From the lowest to the highest level, the teams here are primarily made up of engineers – that's a must. A customer service engineer's technical knowledge is broader than that of an engineer in the factory, but he understands what customers are talking about."
How do you manage 6,000 engineering changes a year?
… …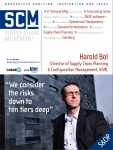 Read the full interview in Supply Chain Movement 17 | Q2 – 2015