Amazon to acquire robot builder Cloostermans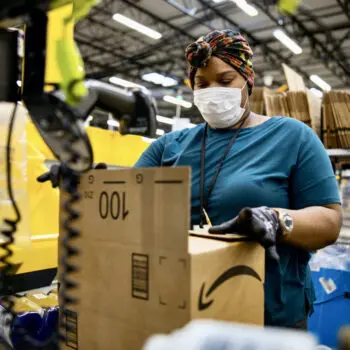 Amazon is acquiring the Belgian firm Cloostermans, a builder of mechatronics solutions including logistics robots, as part of its continued investment in supply chain automation. The e-commerce giant from the US has been using Cloostermans' technology since 2019, but is now bringing it in-house.
Cloostermans is specialized in the design and production of robots that move and stack heavy pallets and totes. It also makes robots capable of packaging products together for customer delivery. By automating more tasks in its distribution centres (DCs), Amazon hopes to make itself less dependent on human labour. An internal report leaked earlier this year shows that the company is concerned about a shortage of workers in its DCs. The financial details of the acquisition have not been disclosed.
Family business with a long history
Cloostermans is a family business with a long history. The company began in 1884 as a textile repair store, and then started manufacturing small textile machines in the early twentieth century. Since the 1970s, Cloostermans has increasingly moved into designing and manufacturing specialized machines. Today, it employs 200 people, who will soon become employees of Amazon Global Robotics. Last year, Cloostermans generated €30 million in revenue and over €274,000 in profit. The company's current CEO, Frederik Berckmoes-Joos, will stay on.
Amazon Industrial Innovation Fund
Earlier this year, Amazon announced plans to invest a billion dollars in companies developing technologies in logistics, supply chain management and security. The firm hopes this will enable it to benefit from ideas for its own business. The money is being made available through the Amazon Industrial Innovation Fund. Amazon is particularly interested in solutions that shorten e-commerce delivery times and improve the employee experience in warehousing and logistics.