Amazon opens innovation lab to improve warehouse safety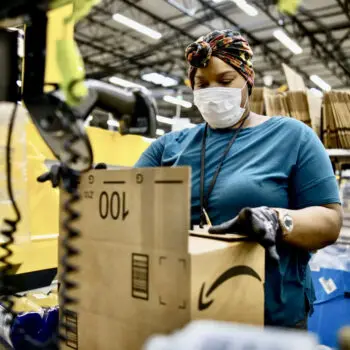 E-commerce giant Amazon has opened a new innovation lab in Vercelli (northern Italy) to support the development and use of new warehouse technologies. The main objective is to explore how innovative technologies can make the work safer and more pleasant for employees. Amazon has repeatedly hit the headlines for poor health and safety conditions in its warehouses in the past.
The technologies being developed at the new lab come hot on the heels of Amazon's successful implementation of more than 350,000 mobile drive units worldwide since 2012. These robotic systems carrying yellow four-sided shelving systems are now commonplace in Amazon facilities. By fetching items for employees, they reduce the walking distances in warehouses. Additionally, the use of robot pallet movers has eliminated a lot of repetitive lifting. At the lab, the company is now working on new technologies that could be similarly beneficial.
Supporting employees
The innovation lab is a high-tech hub for the company's latest innovations on behalf of Amazon Operations, the company's supply chain and logistics division. The lab is not only focused on testing and developing future technologies to help improve safety at Amazon's European facilities, but also supports employees in their daily tasks. Just some of the new technologies include item sorters, pallet movers, tote retrievers, automated guided vehicles and robotic sorters.
The safest workplace on Earth
"The safety of our employees is our top priority and we are constantly looking for ways to further improve safety measures in our facilities. In fact, we want to become the safest workplace on Earth – right throughout our company. That's why we continue to invest in technologies and training for our people," says Stefano Perego, VP of Amazon's Fulfilment Centre Operations in Europe.
The company still has some way to go to achieve that aim, apparently, since a recent study by Statista reveals that Amazon has a significantly higher percentage of accidents resulting in injuries in its warehouses than its competitors.