Active Ants automates using robots instead of conveyors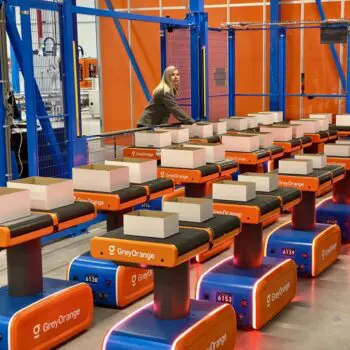 In the Dutch town of Roosendaal, e-fulfilment specialist Active Ants has opened a new fulfilment centre that includes 105 robots, 65 of which are used to transport boxes to and from the order picking stations. The alternative would have been to install a complex system of roller conveyors, according to Jeroen Dekker, managing partner at Active Ants. "These robots are more flexible and cost effective. As an added bonus, the investment can keep pace with our business growth."
Active Ants calls it 'the fulfilment centre of the future'. At its heart is an Autostore system, where 40 robots 'excavate' the storage bins and take them to the order picking stations. Next to this extremely compact storage system, 65 autonomous mobile robots (AMRs) from Grey Orange move around the floor, guided to the relevant destination by a grid of QR codes.
The robots can each carry two boxes at a time. The process starts at the three carton erectors, where the robots pick up empty boxes and take them to the order picking stations. Once an order is complete, they drop off the full boxes at the automatic carton sealer. The sealed boxes are then picked up again by the robots and sorted per carrier. "What makes this solution a world first is that we use the robots interchangeably for multiple processes at the same time," says Jeroen Dekker.
Artificial intelligence
Without the robots, Active Ants would have had to invest in a complex system of roller conveyors. "In effect, we've actually replaced roller conveyors – which are a static piece of hardware – with software. The software is what directs the robots to the right location based on the most efficient route. Thanks to the built-in artificial intelligence, they are getting smarter all the time. For example, a robot might suddenly change tasks because it happens to be in the right place at the right time, and its original task can be handled more efficiently by a different robot instead," continues Dekker.
The robots are not only more flexible, but also more cost effective because the level of investment is considerably lower than for a roller conveyor system. In addition, robots are a scalable solution. "If we had opted for roller conveyors, we would have had to implement the maximum transport capacity immediately. Now we can increase the number of robots in line with our business growth. We've started with 65 robots, but can grow to 130. And the robots also take up a lot less space. AMRs are the future!"
Printing on demand
This 'fulfilment centre of the future' contains other smart solutions combining existing and new technologies. The three carton erectors are capable of producing boxes in five different sizes, for example, and the optimal box size is calculated per order. Two robots with a total of four boxes are present at each order picking station at all times so that operators can pick four orders simultaneously. The carton sealers cut the boxes to size and put the lid on, so no extra filling material is required.
Another notable innovation is that the carton sealers are equipped with a built-in printer, which enables customer-specific logos or text to be printed on the lids. "This means that we can support custom packaging for smaller web shops without having to keep hundreds of pallets of pre-printed boxes in stock. And because each lid is printed on the spot, we can constantly switch between handling orders for different web shops."
Expansion to Belgium
Not everything in the 20,000m2 fulfilment centre is automated; the goods received and returns handling processes are still done manually. Dekker: "We're still in the start-up phase, but most of the teething troubles have been resolved. We're currently moving our customers from our manual fulfilment centre in Etten-Leur to Roosendaal. Around 20% of them have already been transferred, and the rest will follow this year."
As of today, Active Ants – a subsidiary of Bpost – takes care of e-fulfilment for 250 customers and processes approximately three million orders per year, but it is already planning its next expansion. In addition to the fulfilment centre with an 88-robot Autostore system in Nieuwegein, the fulfilment specialist will open another centre at an existing Bpost facility in Boom, halfway between Mechelen and Antwerp in Belgium, in the spring of 2021. Expansion into Germany is also planned.
"I am proud of this new step in our e-commerce logistics activities in the Netherlands," states Jean-Paul van Avermaet, CEO of the Bpost Group. "It proves that we dare to use the very latest technology and innovation in the market to make our mark worldwide."