Accell Group becomes latest bicycle manufacturer stuck with excess inventory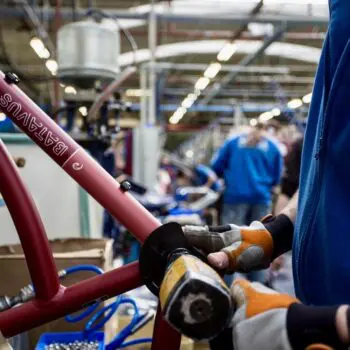 Accell Group is the latest bicycle manufacturer to struggle with extremely high stock levels stemming from the supply issues during the COVID-19 pandemic. As a result, the group's net profit fell by as much as 62% to €27 million, the company's 2022 annual report shows.
The renowned bullwhip effect has now struck at Accell. The Dutch-based bicycle manufacturer – known for brands such as Batavus, Sparta, Koga, Raleigh and Babboe – is the European market leader in e-bikes and number two in bicycle parts and accessories. Last year, due to the aftereffects of the pandemic, the manufacturer saw its inventory increase by 70% according to a report in Dutch financial newspaper FD.
Supply chain disruptions
The root of the problem can be traced back to the steep rise in demand for bicycles during the pandemic, combined with major disruptions in the supply chain. Many parts were difficult to obtain during that period, delaying the assembly and supply of bicycles. In the hope of securing sufficient parts, manufacturers placed multiple orders with multiple suppliers.
Most of the supply chain issues were resolved by the fourth quarter of 2022 and orders were suddenly able to be fulfilled. As a result, Accell saw its inventory levels skyrocket to €936 million, compared to between €300 million and €350 million in the years before the pandemic. To absorb this, Accell was forced to take out an additional loan of €75 million.
Price reductions
The manufacturer initially assumed that its stock levels would start to fall again from the second quarter of this year onwards, but it is now clear that this is not happening. Therefore, Accell has followed in the footsteps of Stella, another e-bike manufacturer that is currently struggling with overstock, and considerably reduced its prices for some categories of e-bikes at the start of August.
In its annual report, Accell states that supply chain problems have meant it has been able to supply fewer bicycles. While e-bike sales rose by 2%, sales of regular bicycles fell by 4% compared with the previous year. In volume terms, total bicycle sales fell by 1% to 845,000 units, although revenue ended up 4.5% higher (€1.44 billion) because e-bikes are more expensive than regular bikes.
Source: FD