Abundance of supply chain studies to kick-start the second quarter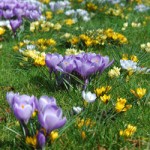 As we enter the month of April, there seem to be more supply chain management studies being conducted than normal – something to do with spring being in the air, perhaps?
First of all, AMR, one of the leading providers of research and analysis in the US, is calling for peer voting to help with putting together its annual Supply Chain Top 25, a ranking of the large multinational companies from the Fortune 500 list. Supply chain professionals from any manufacturing company, wholesaler or retailer are allowed to vote, although AMR accepts only one vote per company.
AMR has approached Supply Chain Magazine for help with attracting more participants from Europe, so that the voting will represent a truer, more global picture than before – American companies have tended to dominate the list in previous years. Supply chain professionals can register to vote on www.amrresearch.com/supplychaintop25 . Voting is open until 14 April 2010 (local time in New York).
A second interesting piece of research is currently being conducted by the Massachusetts Institute of Technology (MIT) in Boston, in collaboration with the supply chain consultancy TruEconomy, which has Dutch roots. The study is examining the relationship between supply chain management strategies and an organisation's executive agenda. The key focus of the research is to identify a company's value framework and successful correlations between corporate strategy and the supply chain based on specific sector characteristics. In contrast to the many other surveys carried out by various large consultancies around the world, this study by MIT and TruEconomy asks not only supply chain decision-makers about their agendas, but also Chief Executive Officers (CEO) and Chief Financial Officers (CFO) too. 
The study is ongoing until the end of April 2010. Companies interested in taking part can send an e-mail to the researcher Dr. Constantine Vassiliadis (mitresearch@trueconomy.com). The findings will be presented during the Sustainability Gala held on 2 June 2010 at Grand Hotel Huis ter Duin, Noordwijk, the Netherlands.
The third study worth mentioning is being conducted by Capgemini, who is calling for logistics professionals to take part in its annual 3PL Study about service suppliers in the logistics sector. In collaboration with the Georgia Institute of Technology and Panalpina, this study examines which supply chain topics are top of mind within companies at the moment. The findings will be presented at various events in the months ahead, both in Europe and the US. To take part in this online survey, see https://www.surveymonkey.com/s/S79ZVK3 .
Finally, DPA Supply Chain, the Dutch interim management recruitment agency, is carrying out a study entitled 'Best of Supply Chain' about the internal supply chain barriers within companies. Jack van der Veen, Professor of Supply Chain Optimization at the UVA, and one of the researchers involved, is adamant that it is essential to have the internal supply chain under control before attempting to redesign the external chain involving suppliers and customers. "If the internal supply chain is not in order, it will be more difficult to organise the external supply chain effectively
Finally, DPA Supply Chain, the Dutch interim management recruitment agency, is carrying out a study entitled 'Best of Supply Chain' about the internal supply chain barriers within companies. Jack van der Veen, Professor of Supply Chain Optimization at the UVA, and one of the researchers involved, is adamant that it is essential to have the internal supply chain under control before attempting to redesign the external chain involving suppliers and customers. "If the internal supply chain is not in order, it will be more difficult to organise the external supply chain effectively." To read the interview with Jack van der Veen in its entirety, see: http://www.bestofsupplychain.com/index.php?option=com_content&view=article&id=48&catid=35&Itemid=58  (available in dutch only). Participants have a chance of winning one of five e-readers. Interested parties can register to take part in the study on www.bosc.nu