A new era is dawning for warehousing
Breakthrough for omnichannel and new technologies
For warehousing a new era is dawning. on the one hand, the breakthrough of omnichannel business means increasingly complex logistics processes because of smaller order quantities and shorter delivery times. on the other, we are seeing new technological advancements such as google glass, smart watches and tablets on the market for innovative process improvements.
By Martijn Lofvers and Marieke Lenstra

The e-commerce battle will be won by the player with the lowest handling costs per order, announced Walther Ploos van Amstel, professor of City Logistics at the Amsterdam University of Applied Sciences and affiliated with the VU Amsterdam, during the Eyefortransport congress in the Dutch capital city in November 2014. "The consumer wants more delivery options. Amazon plans to have a total of 90 distribution centres in Europe in order to be close enough to consumers. Handling and transport combined make up just over half of Amazon's costs. That's around seven euro per order." Ploos van Amstel knows from experience that handling accounts for 40 percent of the total costs.
Strategic warehousing
In order to minimise handling costs in the case of large volumes, it is necessary to automate as much as possible, which is why automatically controlled order picking robots from Kiva Systems can be seen driving around in Amazon's distribution centres. The robotic drive units pick up open inventory shelves (pods) and take them to the order picker. "An order picker can be trained for the job in just 30 seconds. These robots are also used in the Dutch Timberland DC, where they achieve between 400 and as many as 900 order lines per hour." The use of the Kiva robots is so strategically important that Amazon has now acquired the supplier in order to remain assured of the technology. The strategic importance of logistics handling is also the reason why Dutch online department store Wehkamp has invested around one hundred million euro in a new, highly mechanised DC in Zwolle with 480,000 pick locations. 468 automated shuttles pick the orders at breakneck speed so that they can potentially be delivered to consumers on the same day.
However, intelligent mechanisation is not necessarily limited to new warehouses. Software supplier Ortec, known for its transport planning solutions, has worked with a partner to develop a sequencing buffer for warehouse racking. This is a very compact, fully automated pallet storage module for existing warehouses which disconnects the storage of pallets and ensures rapid unloading and error-free loading of trucks. The innovative aspect lies in the concentration of the complexity in the buffer station and in subsequently optimising the sorting using smart 3D planning algorithms. At the fully continual Ben & Jerry's icecream factory in Hellendoorn, which had almost reached its limits, this solution – with an output speed of 80 pallets per hour – has reduced personnel costs by 70 percent and energy consumption by 80 percent in the refrigerated warehouse.
Google Glass in the warehouse
The automation of warehouse activities is not the only opportunity for productivity-boosting innovation. Nowadays, manual order picking can also be done much more quickly. After the development of paperless working via pick-to-light (which shows the numbers of items to be picked on LED displays) and voice picking, the latest advancement is Google Glass: glasses with an in-built screen, camera and internet connection. Active Ants, an e-fulfilment specialist, is the first Dutch company to use Google Glass technology for order picking. The initial test results show that orders in the warehouse are now picked 15 percent faster and with 12 percent fewer errors. The picking orders are displayed one by one on the small screen of the glasses and cannot get mixed up or forgotten. For this new usage, Active Ants has worked with the company Glasseffect to develop a specific application. "The idea was first formed in late January 2014, and by mid-April 2014 we and Glasseffect had got it up and running and the first test results were rolling in," says Jean Lahaye, managing partner of Active Ants. He believe that much more is possible than is currently the case. "For example, we're not yet using product images, which would further improve product recognition and reduce mistakes. That will definitely be in version 2.0."
Augmented reality
… Read more …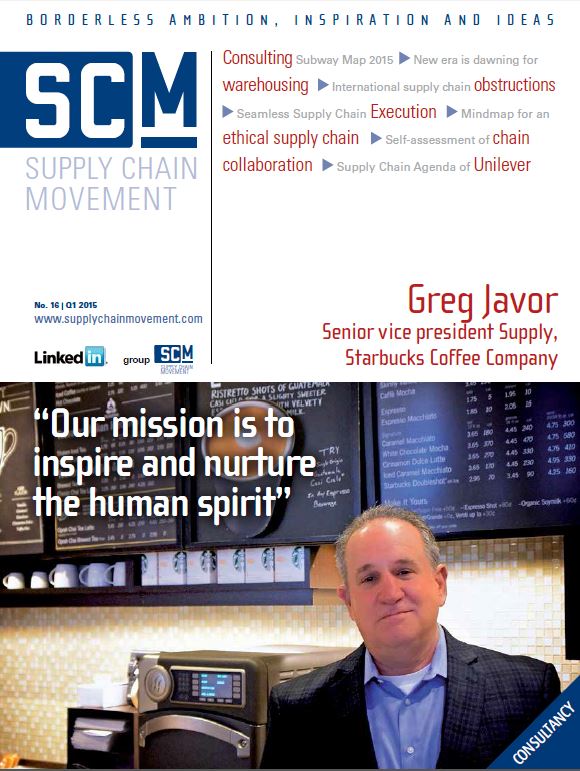 This article was first published in Supply Chain Movement Q1 – 2015
Subscribe on tablet to read the full version>>
or