10 tips for getting more out of your supplier network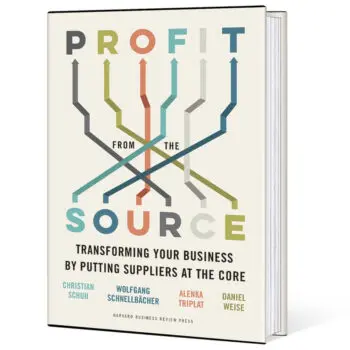 Profit from the Source is a well-written book in which the Boston Consulting Group presents ten practical principles to help businesses achieve maximum synergy with their suppliers.
What is the CEO's role? Which roles and skills should buyers have? What kinds of IT systems are needed? The authors cover all facets of procurement and explain them using compelling examples.
Profit from the Source also provides an enlightening historical perspective, outlining the evolution of the procurement discipline over the past century based on numerous iconic companies, from Ford, General Motors and Toyota to Dell, Apple and Tesla.
The book is aimed at CEOs but is definitely an interesting read for buyers and supply chain professionals too. In essence, although written through the lens of procurement, the book shows how incredibly important supply chain management has become for businesses. Highly recommended.
'Profit from the Source' (2022), by Christian Schuh, Wolfgang Schnellbächer, Alenka Triplat and Daniel Weise, Harvard Business Review Press, 272 pages, €30